Apple® iPod® protected in the new Pelican™ Products i1030 Micro Case.
$44.95* CDN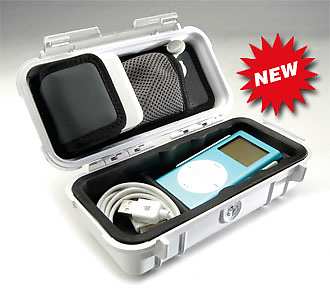 The i1030 is a tough, watertight case with a molded rubber compartment that fits the Apple iPod (3rd and 4th generations), iPod Mini with belt clip, and the new iPod video. A separate cavity holds the USB or Firewire cable and there is plenty of space in the lid to organize earphones and AC adapter. A detachable nylon strap is also included.
The i1030 Micro Case with Pelican's trademarked "Dual Band" design has a high impact polycarbonate shell . A strong latch with stainless steel pins keeps the case closed after drops and hard knocks, and the shock-absorbing liner doubles as a watertight seal. The pressure-balancing Gore-Tex® valve keeps moisture out and makes it easier to open the case after altitude changes.
Inside Dimensions (L x W x D): 6-1/2 x 2-3/4 x 2-1/16
Outside Dimensions (L x W x D):7-1/2 x 3-7/8 x 2-7/16
Shipping Weight:1 lb.
**(iPod and accessories not included)
Tel: 613-822-0620 | Home